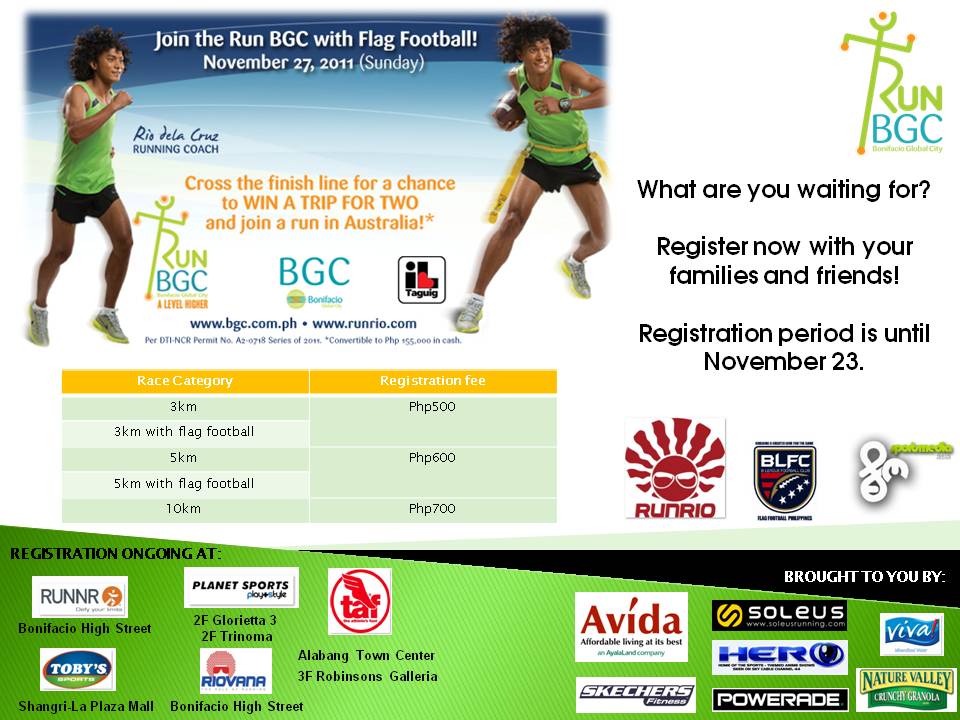 Hey Guys! I'm raffling off 10 FREE Race Kits for the upcoming RUN BGC on November 27, 2011! Check out the mechanics there!
RUN BGC 2011
November 27, 2011
You can Still register for this race – Race Details -> Click Here
Mechanics:
1. Leave a Comment Below with your name and a valid email address answering ->
"I wish to RUN BGC alongside [person/celebrity]. and WHY?"
Name: [full name]
Email: [valid email] – this is where we will contact you
2. Share in your Facebook or Tweet the Following:
I just joined the RUN BGC 2011 Run Promo @pinoyfitness! – https://wp.me/pQctC-37y
3. That's IT! LIKE our FanPage as well! -> https://www.facebook.com/pinoyfitness
I'm giving away 10 FREE KITS, PROMO is only until November 20, 2011 at 9PM. Winners will have to pick up their race kits BCG Office on November 22, 2011.
Good Luck!