[ad#square-middle]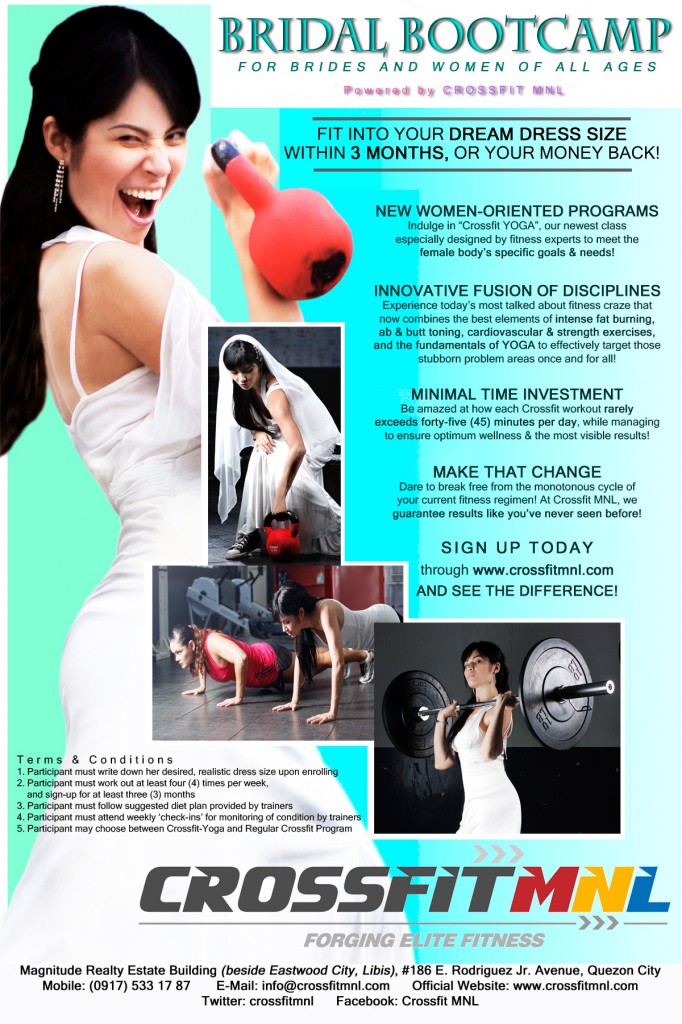 Have you ever dream about fitting into that perfect dress at your perfect wedding? That dream might just come true! with CrossfitMNL's newest program called the
Bridal Bootcamp!
CrossfitMNL guarantees that you will fit into that Dream Dress Size within 3 Months, or your Money Back!
I am personally training with CrossfitMNL for 2 month's now and I really can see the results, I have slimmed down and toned up like never before, combined with my regular running routine, I feel like i'm at my prime.
For the ladies and brides to be, you can try the newest program… the Crossfit YOGA, a class epecially designed to meet the female body's specific goals and need!
Want to know more!? Visit the CrossfitMNL Website
The above promise is, of course, subject to the cooperation and compliance of participants, who must abide to the terms that follow:
1) Participant must sign up for at least three (3) months and work out at least 4 times per week
2) Participant must follow the suggested diet plan provided by trainers
3) Participant must attend weekly 'check-ins' for monitoring by trainers
4) Participant must write down her desired, realistic dress size upon enrolling
Crossfit MNL is the country's first and only officially certified Crossfit Gym to date;
Located at Magnitude Realty Estate Building, #186 E Rodriguez Jr. Ave, Quezon City;
Mobile No. 0917-5331787; Official Website: www.crossfitmnl.com