[ad#square-middle]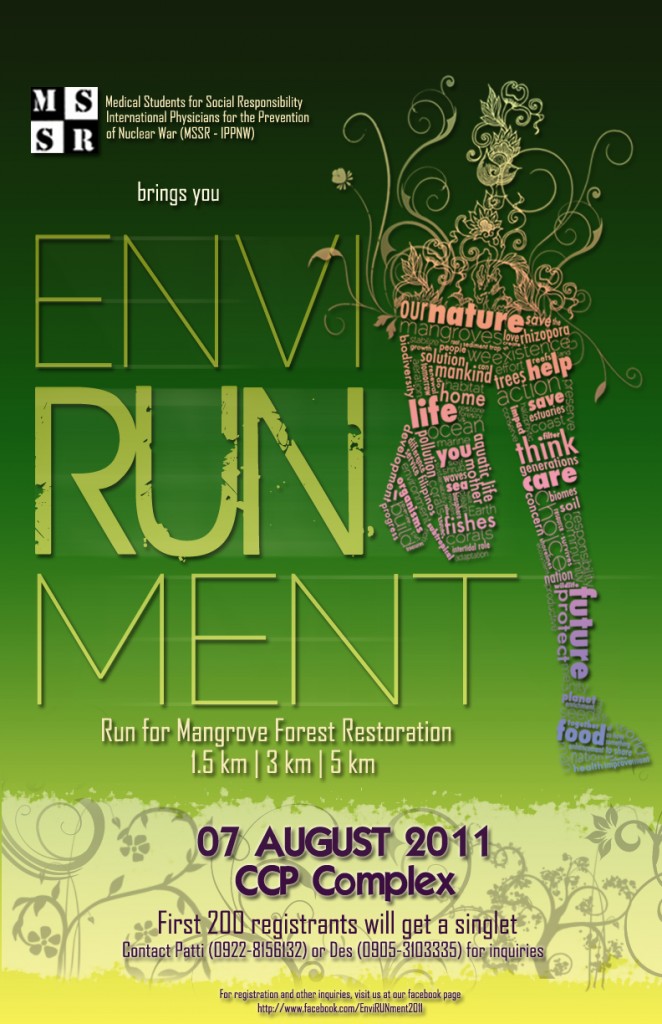 MSSR-IPPNW of the UP College of Medicine brings you… EnviRUNment 2011: Run for the Restoration of Mangrove Forests. Run for NATURE…Run for the FUTURE…Run for LIFE! Happening on August 7, 2011.
EnviRUNment 2011
August 7, 2011 @ 5:30AM
CCP Complex
1.5K/3K/5K
Organizer: Medical Students for Social Responsibility- International Physicians for the Prevention of Nuclear War of the UP College of Medicine (MSSR-IPPNW of the UP College of Medicine)
Registration Fees:
Php 350 (for 1.5 km)
Php 400 (for 3.0 km)
Php 450 (for 5.0 km)
*Fees are non-refundable and non-transferrable.
*Fees will not cover parking fees.
FREEBIES and CASH PRIZES IN STORE!
All registered participants are entitled to ONE RACE KIT which includes the following: race bib, safety pin, flyers, event map, reminders, and other cool surprises!
The first 200 participants to register will get a FREE SINGLET!
*Bulk or group registration will only be entitled to receive this item if the remaining number of free singlets suffices.
EnviRUNment 2011 – Singlet Design: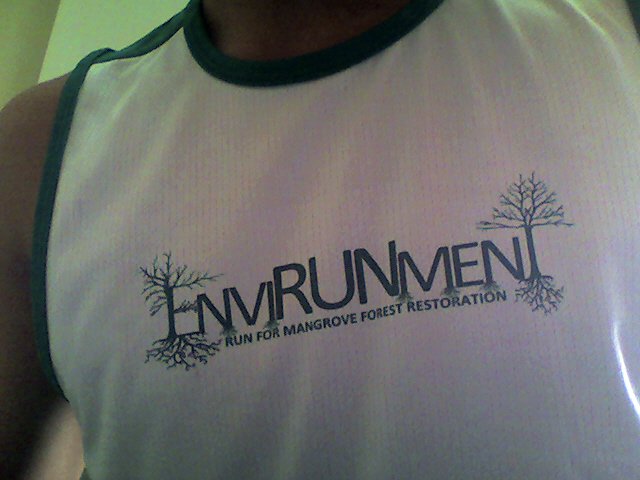 Registration Venues:
PRE-REGISTRATION IS SIMPLE AND EASY!
There will be a REGISTRATION BOOTH at the UP MANILA College of Medicine (medstones area). Time slots are 12:00-1:00PM and 5:30-6:30PM.
There will also be an ONLINE REGISTRATION starting JULY 4, 2011 (8:00 AM) until JULY 29, 2011 (5:00 PM).
HOW TO REGISTER ONLINE: Click Here!
Note: follow the instructions carefully.
NOTE: Signing up does not make you officially registered. Payment is required.
*On-site registration on August 7 at the CCP Complex will also be available.
Contact Details:
For questions, you may contact:
Decerie B. Dayag
EnviRUNment 2011 Registration Head
MSSR-IPPNW Philippines
09053103335/[email protected]
Patricia Orduña
EnviRUNment 2011 Registration Head
MSSR-IPPNW Philippines
09228156132/[email protected]