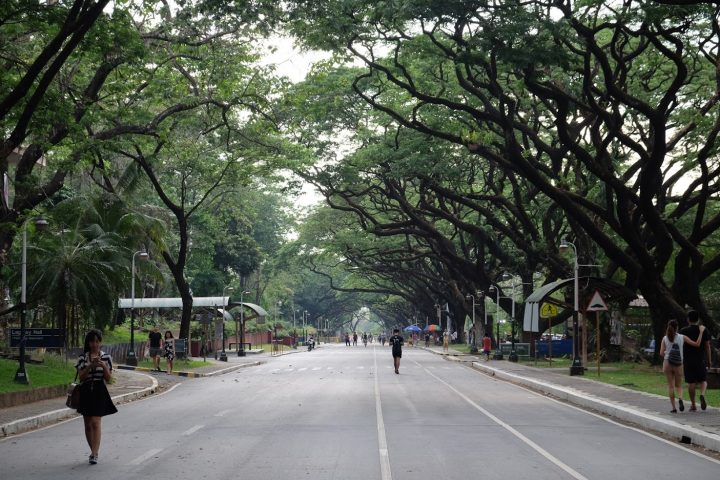 Let's get down to business once again…
With all the work we do in our day to day lives, it's no question that doing yoga exercises or hitting the gym falls last on our to do list. Worry not! You can still stay in shape or pick up where you left off in your Balik Alindog program starting with the classic jog. Check these workaholic approved nature-centric places to grind and chill during weekends or even squeeze into your daily routine (yes, we believe you can do it!).
Indeed, there's a lot of spots across Manila to have a nice run aside from the good ol' UP Diliman and BGC! Lace up and let's start down South then work our way North!
1. Filinvest Muntinlupa
Every people in the south (and some northerners!) know that this is the best place to run and be in par with nature. The place is famous for hosting Fun Runs so you know you're on the right track!

Grind and Chill meter: 🏃‍♂️🏃‍♂️🏃‍♂️🏃‍♂️
2. MOA Seaside Boulevard
The place is among the favorite of cyclists and joggers alike. You may see lots of activities around the area like Zumba! Join in one of the Zumba classes to burns those calories and fats!
Take 5 rounds from Esplanade to MOA seaside and that's a solid 5km run!
Tip: Best time to jog in this area is early morning before cars take the spaces for parking!

Grind and Chill meter: 🏃‍♂️🏃‍♂️🏃‍♂️🏃‍♂️
3. Rizal Park
The park is such a treat for all runners and joggers! There's just a lot of paths to explore! And while you're at it, give a visit to the orchidarium, the butterfly garden, and of course the Noli Me Tangere garden!
If you want a calculated run, you may start at the Kilometer Zero infront of the Rizal monument, work your way to Ma. Orosa street then make a U-turn back and that'll be 1km. Afterwards, chill and watch the sunset down at Roxas boulevard.

Grind and Chill meter: 🏃‍♂️🏃‍♂️🏃‍♂️🏃‍♂️
4. Ayala Triangle Gardens and Legazpi Park
Sitting beneath the tall buildings of Makati is this haven for early risers and after-work runners living in the business capital of the country. If you want to refresh on some greens and energize yourself before or after a day at work, this is the perfect place for you!

Grind and Chill meter: 🏃‍♂️🏃‍♂️🏃‍♂️
5. Track 30th BGC
For all the yuppies working at BGC here's the spot! The green park is a popular spot for joggers and people who want to do extra activities using the wooden intallations around the area. The lawn is open from 6am to 10pm daily and covers a light run of about 300 meters.

Grind and Chill meter: 🏃‍♂️🏃‍♂️🏃‍♂️
6. Ninoy Aquino Wildlife
If you want to get some fresh air in the city, then this is the place to be! The park is frequented by joggers, sports enthusiasts, and nature lovers. Since the park is an open area, you are free to choose which path to take for a more adventurous run!

Grind and Chill meter: 🏃‍♂️🏃‍♂️🏃‍♂️🏃‍♂️🏃‍♂️
7. UP Diliman
The university's Acad Oval is the crowd favorite among joggers and people who simply want to release stress then rest at the Sunken Garden. Best part is cyclist and joggers have an allotted space so your safety is guaranteed!
Just a round at the Acad Oval will give you a good 2km run!

Grind and Chill meter: 🏃‍♂️🏃‍♂️🏃‍♂️🏃‍♂️🏃‍♂️
8. La Mesa Eco Park
Just a few rounds at the long stairs in the eco park's center will keep your adrenaline pumping! The place is a quite green paradise which makes it perfect for mediation and you know… soul searching.
Tip: Perfect time to visit is during weekend mornings so the place isn't crowded yet.

Grind and Chill meter: 🏃‍♂️🏃‍♂️🏃‍♂️🏃‍♂️🏃‍♂️
And don't ever forget to do warm up and cool down to prevent injuries.