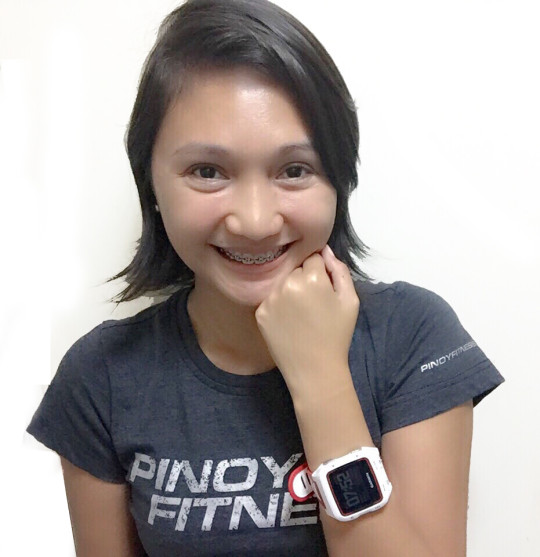 My boyfriend recently upgraded to Garmin 920XT. "Bibi, mata-track mo na yung rides ko real time!", he excitedly told me. "Really?? Ay salamat sa Diyos!", I quipped. Out of running, biking, and swimming… I am worried the most when he rides off with his bike. To me, it's the most dangerous of the three. So having to know where exactly he is when he's riding will definitely make me LESS nervous.
"You wear it, too, when you go to work, or when you go to the car wash, or when you go out with your friends, ok?", I added, just to annoy him. Haha!
According to Garmin, "the live tracking feature lets you invite followers using email or social media so they can see your stats and location on a map in real time."
Going for a quick ride last night, we took the Live Track for a field test.
What we used:
– Garmin 920XT with Live Track feature
– iPhone 1 (Boyfriend) – Bluetooth and Cellular Data Enabled
– Garmin Connect iPhone App
– iPhone 2 (Mine) – connected to WiFi
So he paired my boyfriends watch to this iPhone via Bluetooth, and then opened his Garmin Connect App. From the Live Track option in the app, he sent the invitation to my email, and there I just had to click the link which led me to my phone's browser.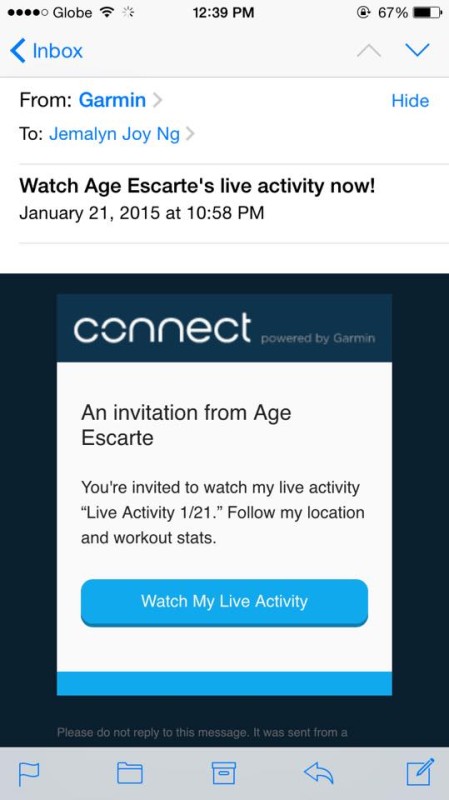 The blue dot indicates his location and it moves real time! Amazing! Watching his every move (ok that sounded creepy. Stalker much? haha!) via Livetrack made me realize that I will now have more peace of mind when he's out on the road. Livetrack really is heaven sent for endurance athletes significant others/spouses, we just want to know that they're alive and safe, all the time. Good thing we now have Livetrack to thank for.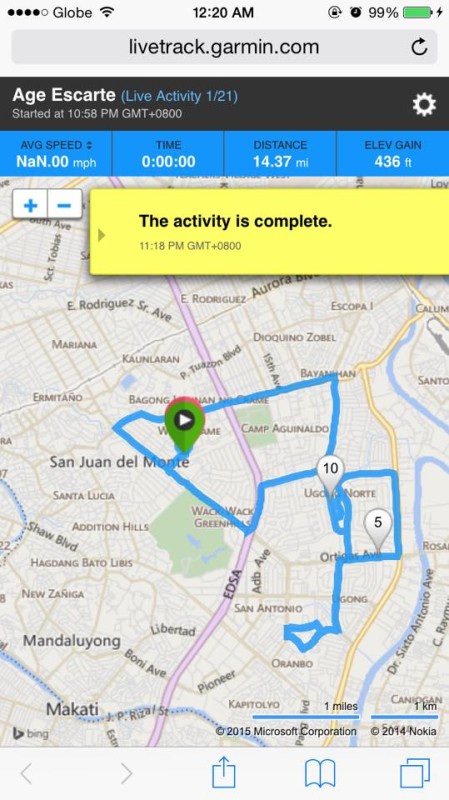 When he was done with his workout, Livetrack showed a message on the screen saying that the activity is complete. Yeah meeennn!
Garmin Livetrack feature is available for EDGE 1000, EDGE 510, EDGE 810, Fenix 3, Forerunner 220, Forerunner 620, Forerunner 920XT
To know more about the Livetrack feature, click the following links: Garmin Livetrack
For Instant Updates – Follow US!
https://www.facebook.com/pinoyfitness
https://www.twitter.com/pinoyfitness
https://www.instagram.com/pinoyfitness
PF Online Community -> https://members.pinoyfitness.com
PF Online Shop -> https://shop.pinoyfitness.com
Like this Post!? Share it to your friends!