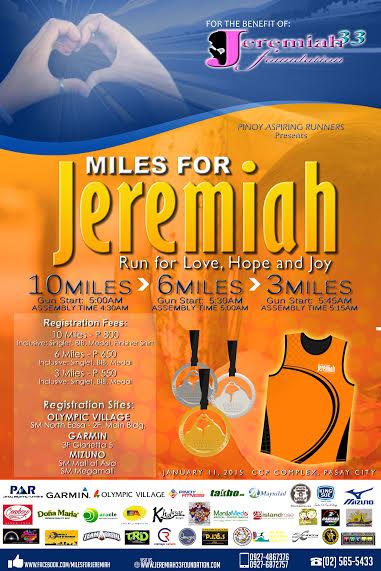 1 in 4 little girls will be victims of sexual assault in their lifetime. But as sobering as the statistics are, they don't begin to speak to the darkness and grief experienced by these victims. Because this traumatic experience causes physical, psychological, emotional, and spiritual pain, victims need clear help, hope, and healing.
This coming January 11, 2015, Pinoy Aspiring Runners will mark its 2nd anniversary by affiliating with Jeremiah 33:6-7 Foundation to create the event Miles for Jeremiah. ALL proceeds of this run for a cause will go directly to the foundation who is a non-profit, non-sectarian group of volunteers dedicated to serving and loving God by reaching out to and serving child victims of sexual abuse. The Foundation serves girls who are five (5) to eighteen (18) years old.
Help make a difference! Join MILES FOR JEREMIAH and help give the victims their first step toward finding brighter and safer futures away from violence and abuse and see how the grace of God can heal the broken and restore the disgraced. We will let these children know that they have a choice, that they have hope, and that they are loved.
Miles For Jeremiah
January 11, 2015
CCP Complex
3 miles / 6 miles / 10 miles
Organizer: Pinoy Aspiring Runners (PAR)
Registration Fees:
10 Miles – P800
6 Miles – P650
3 Miles – P550
– Inclusive of Singlet, Bib, Medal, and Shirt for 10 miles finishers.
Registration Venues:
– GARMIN – 3F Glorietta 5
– OLYMPIC VILLAGE – SM North EDSA, 2F Main Bldg
– MIZUNO – SM Mall of Asia
– MIZUNO – SM Megamall

Contact Details:
Mobile: 0927 4867376 / 0927 6872757
Landline: (02) 565 5433