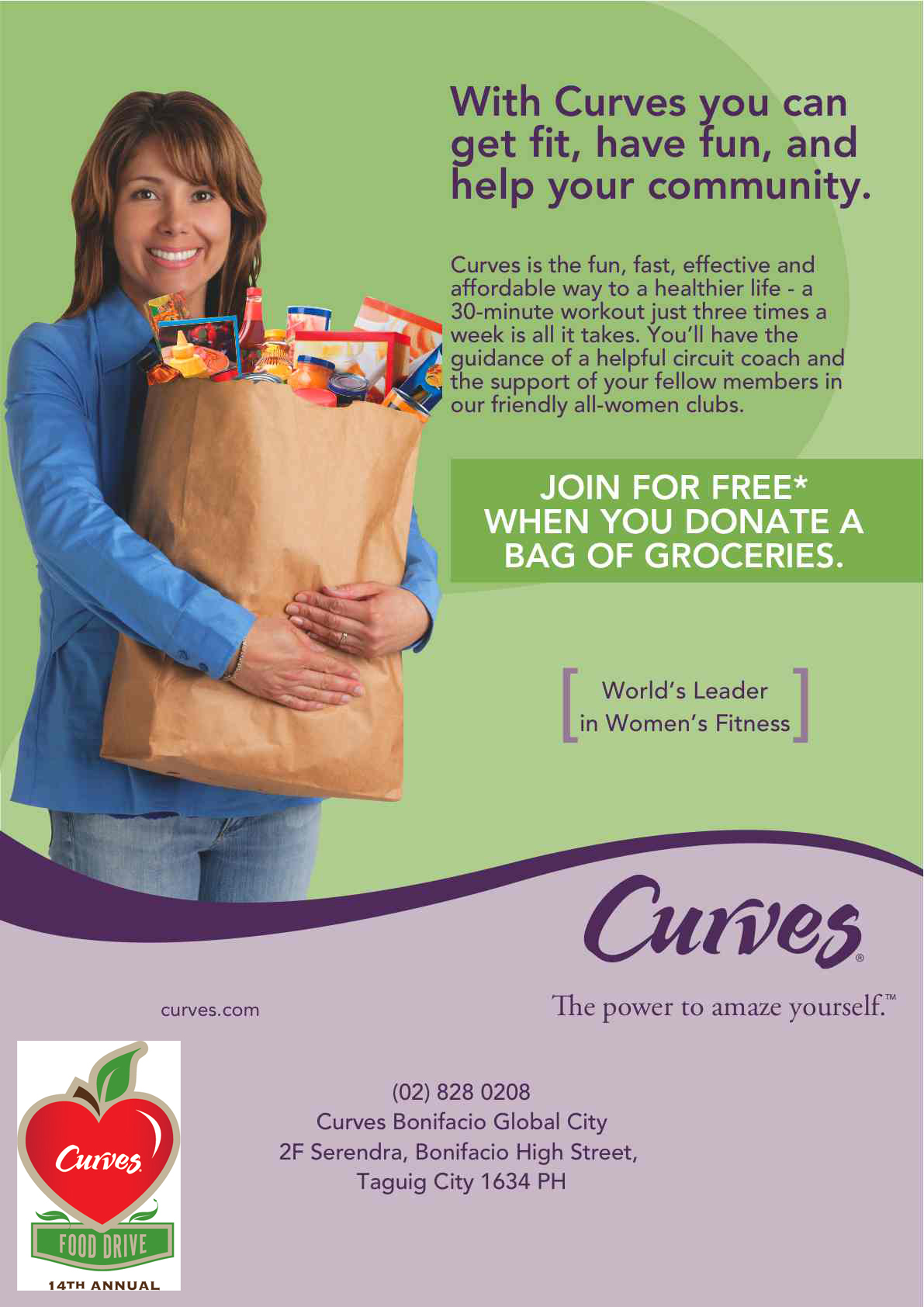 Waived joining fee for non-members worth P4,990, Curves welcome a bag full of groceries donation no matter how much it is worth! Members get Curves products for free! Check out the press release!
[PRESS RELEASE]
Curves of Bonifacio Global City Hosts Food Drive to Benefit Local Charities
(Club offers incentives for both current and potential members who participate)
BGC, Taguig City (Grassroots Newswire) 16 May 2012 – Curves of Bonifacio Global City is encouraging women in and around the area to show their philanthropic strength by participating in the 14th annual Curves Food Drive. In addition to the rewarding opportunity for community engagement, the club is offering compelling incentives for both existing and potential members who participate.
From June 4 – 30, Curves Bonifacio Global City will collect non-perishable items and donations for its selected charitable institution. Last year, the following: have benefited
* Golden Acres Home for the Aged (Quezon City)
* The Amazing Grace Church Weekend Feeding Program (San Mateo, Rizal)
* St. Rita Orphanage (in Sucat, Paranaque City)
* Tahanan ng Pagmamahal Children's Home (in Oranbo, Pasig City)
The goal, according to Fe Abrihan of Curves Bonifacio Global City, is for the community to come together to help those in need. "At the core of our business is the message that women are stronger when they rally together, and that is the point we hope to emphasise with our food drive," said Fe. "We want to show our community just how powerful the generosity of our members can be."
According to Fe, members who donate a bag of groceries or make a donation during the month of June will receive a Curves product for free. Non-members who do likewise between June 4 and 30 can join Curves for free. Curves will waive the cost to join, a savings of P4,990. Company donations are also very much welcome!
Fe says that as part of this effort, Curves Bonifacio Global City will be participating in a company-wide contest for the most food drive donations collected by Curves locations across the globe. Each year, Curves locations collectively donate millions of kilos of food to feed the hungry.
"We hope women in the area will come together and participate in this initiative," added Fe. "Even if you're not thinking about joining a gym, you can still drop off your donations. There are so many that need our help."
For more information about Curves of Bonifacio Global City, located at 2F Serendra, McKinley Parkway, and the Curves Food Drive, contact Fe Abrihan at (02) 8280208, 0917 8708870, 0922 8170353, 0920 9499851 or e-mail to [email protected]
About Curves
Curves is a facility especially designed for women featuring a complete 30-minute cardio and strength-training program that has been proven to be clinically effective with a positive effect on body composition, metabolism, and resting heart rate. Curves appeals to women of all ages who want a fitness routine that differs from typical gyms, struggle with their weight and fitness, find attending traditional gyms very intimidating, or due to cultural beliefs find exercising in a mixed environment impossible. Founders Gary and Diane Heavin are considered the innovators of the express fitness phenomenon that has made exercise available to millions of women globally, many of whom are in the gym for the first time.
With thousands of locations worldwide, Curves is the world's largest fitness franchise. Many clubs now also offer new Curves® Circuit with Zumba Fitness®, the only 30-minute class that mixes the moves of Zumba® with the proven strength training of Curves for a wildly effective workout.
For more information, please visit: www.curves.com.au
For Instant Updates – Follow US!
https://www.facebook.com/pinoyfitness
https://www.twitter.com/pinoyfitness
Like this Post? Share it to your Friends!