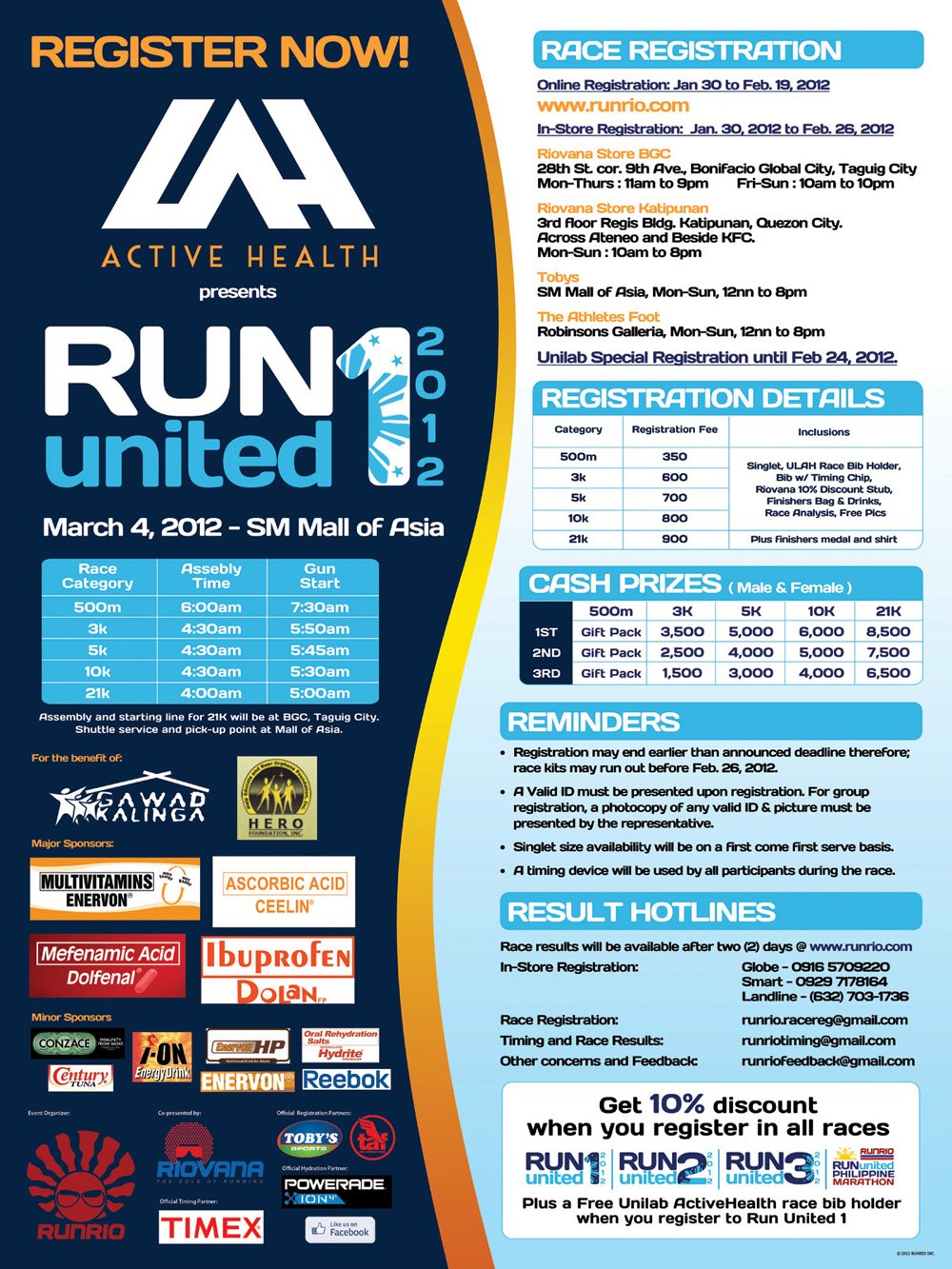 Unilab Run United 1 2012 participants, take note of these adjustments and reminders for the upcoming race on March 4, 2012. Specially to the 21K Runners, GunStart is adjusted from 5AM to 4:30AM.
Here's the announcement from RunRio.
Dear 2012 Run United 1 Participants,

Please be informed of the following updates:

21K CATEGORY UPDATES:

1. Starting gun
The gun start for the 21k category was adjusted to an earlier time from 5am to 430am . We are allowing a maximum grace period of 30 minutes to allow participants to start. Hence, by 5:01am, the starting line will be closed to all runners. This is due to the limited time that the race organizer has been allowed to have the race route closed to traffic. We hope you understand that this is for everyone's safety and security.

2. Free shuttle services

We are providing free shuttle services for all 21k runners from MOA to BGC starting at 230am. This service will be available at 15 minute intervals until the last trip scheduled at 330am. After 3:30am, the next shuttle service to BGC will only be available starting 630am, at 15 minute intervals, with last trip scheduled at 930am. No shuttle services will be provided after 930am.

Designated pick-up point: OCEAN DRIVE (in between ECOM Bldg and Blk12) at Mall of Asia complex
Drop off point: In front of Riovana store in Fort – BGC

Runners are are recommended to plan their transportation in advance given these developments.

3. Baggage Counter
21k runners may leave their bags at any of the 2 designated Baggage Buses parked along the 9th Avenue near the Gun Start area in Fort BGC from 2:30am until 5am only. After the race, you may claim your items from the same bus at OCEAN DRIVE (in between ECOM Bldg and Blk 12) at Mall of Asia. Participants are strongly advised not to leave any valuables in their bags. The race organizer and any of its sponsors will not be held liable for any loss or damage to your personal items.

Below are key points to remember:

Starting line at bgc across RIOVANA
Baggage buses: 230am to 5am
Assembly time 330am
Starting gun 430am
Cutoff of start 500am
Finish line at MOA
Shuttle services*:
MOA to BGC**: 230am to 330am in time for the 430am starting gun
MOA to BGC**: 600am to 930am
*all shuttle services are exclusive to 21K participants
**in 15 minute intervals

5K CATEGORY:

The 5k gun start at MOA has also been adjusted to 5:30am. This will be simultaneous with the 10k category at a separate starting line, also in MOA.

For inquiries, you may call the Run United 1 21k Runner's HOTLINE: 0915-9678717 from 8AM to 8PM.
*DISCLAIMER: The special Run United 1 21k Runner's HOTLINE is valid until MARCH 4, 2012 ONLY.
Source: RunRio.com
For Instant Updates – Follow US!
https://www.facebook.com/pinoyfitness
https://www.twitter.com/pinoyfitness