[ad#square-middle]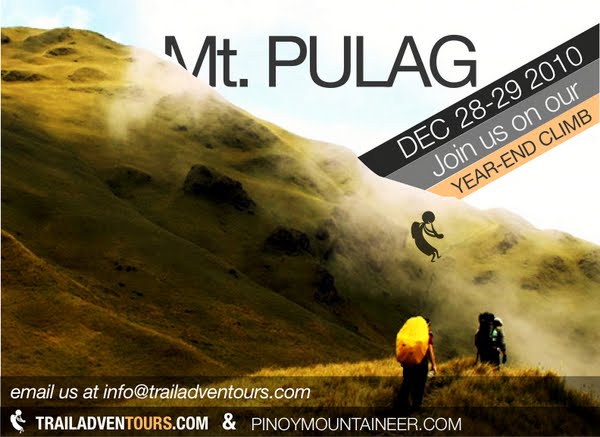 Want to End the Year 2010 with a relaxing climb to Mt. Pulag? Then join Trail Adventours Inc as they once again organize a fun climb to one of the spectacular peak in the Philippines on December 28-29 via the Ambangeg Trail.
Mt. Pulag – Year-End Climb
December 28-29, 2010
via Ambangeg Trail
COST AND INCLUSIONS
The climb fee is P3,400/person and includes the following:
*Roundtrip Manila-Baguio via Victory Liner
*Roundtrip Baguio-Ranger Stn via monster jeepney
*Guide fees and all registration/entrance fees
*Travel coordinator with email updates/consultations
*Climb certificate
*Climb shirt, and ID
ITINERARY
Day 0 (Dec 27)
2330 Assembly at Victory Liner Station (Pasay)
Day 1 (Dec 28)
0500 ETA Baguio City. Breakfast then proceed to jeepney terminal/chartered jeep.
0700 Take chartered jeepney to Ambangeg.
1100 At Ambangeg, register at Protected Area Office. Orientation.
1130 Set out for Ranger Station
1230 ETA and heavy lunch at Ranger.
1300 Start trek to Campsite 2
1430 ETA Camp 1
1600 ETA Camp 2.
1800 Evening program / Socials
Day 2 (Dec 29)
0430 Early morning trek to summit for sunrise
0545 Arrival at summit just in time for sunrise
0700 Start descent from summit
0800 Back at Camp 2; heavy breakfast
0900 Decamp; start descent to Ranger Station
1130 Back at Ranger; Settle guide fees; jeepney descent
1230 At DENR-PAO; tidy up and log out
1400 Head back to Baguio City
1700 ETA Baguio City. Dinner.
1900 Head back to Manila
RESERVATIONS
To reserve slots and get more information please email Cube Collantes at [email protected]. Limited slots available.
SPECIAL OFFER
A special discount will be given for groups of 5 or more! Email Cube for more details!