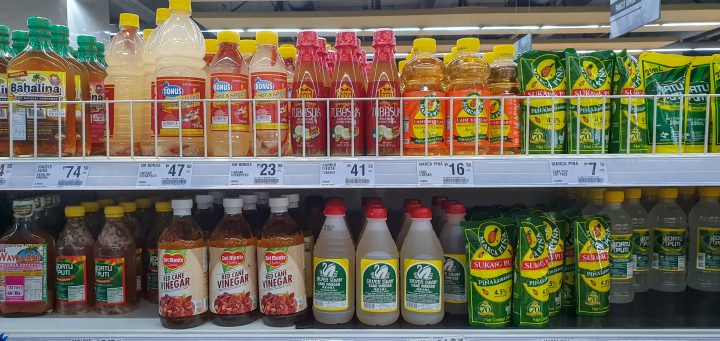 Vinegar is that sour condiment that we Filipinos love to use whether in our marinades or in our sawsawan. It is made through the process of fermentation by converting carbohydrates and sugars into alcohol and then acetic acid. Yes, vinegar had to be a form of alcohol and with a little bit of time you get this rich sour goodness. As long as its been processed safely with natural ingredients, vinegar actually has some useful health benefits. Acetic acid has been reported to suppress appetite, lower blood sugar levels, and reduce fat storage therefore aiding in weight loss. Unfiltered, naturally fermented and raw vinegars have anti-microbial properties which can help prevent infections. They are also considered probiotics and aid in digestion.
Philippine cuisine is actually very diverse with the vinegars we have at our disposal. Here are a few examples of the common and not so common Filipino vinegars.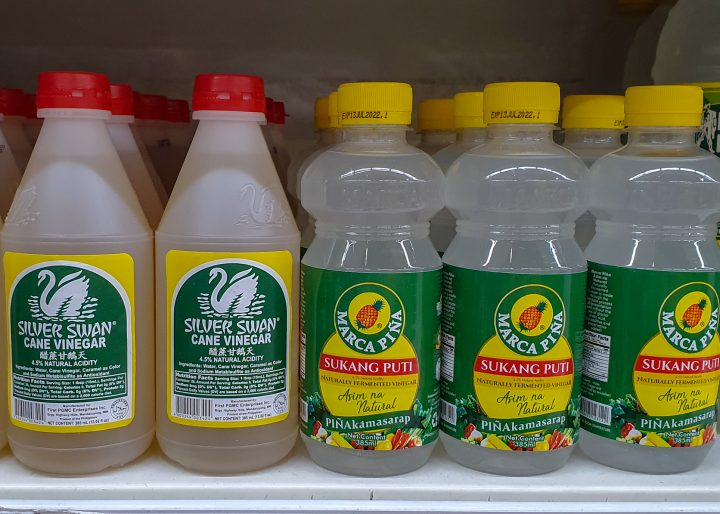 1. Sukang Puti/Maasim
This is your normal Datu Puti or Silver Swan kitchen staple. Made from sugarcane, this type of vinegar is uniquely Filipino. Often referenced in textbooks and other websites as cane vinegar, this is something that we made popular on our own. This is actually the mildest in flavor and sourness compared to the other varieties we have.
2. Sukang Ilocos
Ilocos, located in Region 1 of the Philippines, has a local sugarcane wine called "Basi" which is usually fermented in earthen jars called "tapayan" and sealed with banana leaves. This is then fermented for a few years and if fermented longer is turned into sukang Ilocos. Commercially, lower grades of Basi are fermented within a shorter period of time to turn immediately into vinegar. Fun fact: Basi was around since the pre-colonial era and the Ilocos region had a Basi revolt when the Spaniards tried to ban the product. Despite being made from sugar, it is not sweet and on the mild side of sourness depending on the length of fermentation.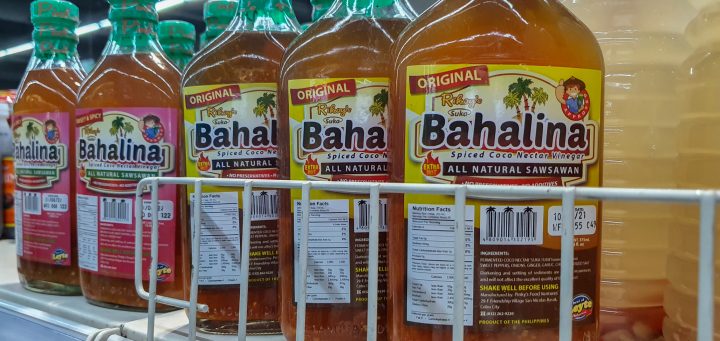 3. Sukang Tuba
Tuba is a local wine made from the sap of coconut trees. Refine and distill it further and you get lambanog. Sukang tuba is usually fermented for a few months and filtered upon bottling. Some even say that this has more health benefits than the famous apple cider vinegar. It has a stronger complex flavor and a rich creamy mouth feel to it. Depending on your source, this product can continue to ferment especially if it isn't pasteurized.
4. Sukang Sasa
Sukang sasa also known as sukang paombong ,is made from the sap of nipa palm trees. This is the strongest in our list in terms of flavor and sourness. The capital of this vinegar can be found in Bulacan where they have been making it for decades and some even centuries.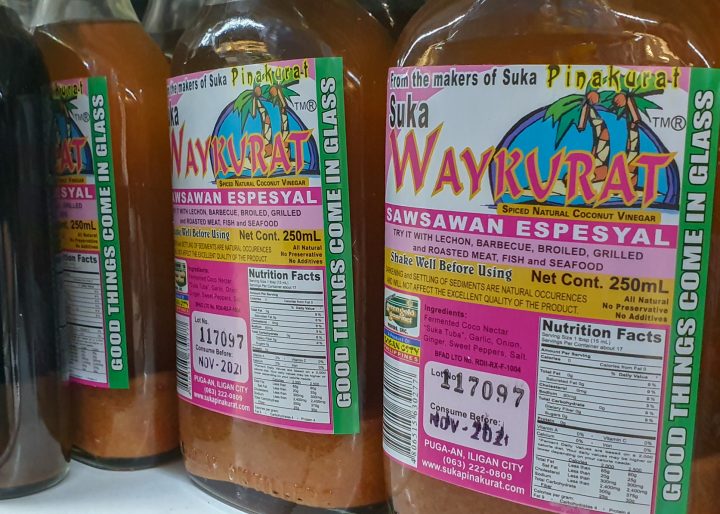 5. Pinakurat
This trendy condiment is a spiced tuba vinegar from Iligan and Lanao del Norte, Mindanao. It has become recently popular in grocery stores and dinner tables as a tasty addition to your sawsawan thanks to a successful family run business. Pinakurat comes from the Cebuano word "kurat" which means surprise. These spices include chilies, onion, ginger, garlic and more.
6. Sinamak
Not to be outdone, this spiced vinegar comes from the Visayas region but more specifically from Iloilo. This tuba vinegar is usually fermented with a lot of siling labuyo, onions and garlic.
7. Fruit vinegars
I have encountered a lot of fruit vinegars over the years and I'm sure there are more left to discover. From pineapples, mangoes and bananas to the more rare bignay, anything that can be made into an alcohol, can be made into a vinegar.
What other way to celebrate the uniqueness of these vinegars than with our country's iconic dishes. Contrary to popular belief, adobo actually means to cook with vinegar. The soy sauce was only an addition made popular in Luzon when the Chinese traders introduced it to us.
Here are just a few recipes to spice up your adobo:
Adobong Puti
Serves 4-5 people – popular in the Visayas region
– 1kg chicken adobo cut
– 2 tbsp patis or fish sauce
– 1 cup sukang puti
– 3 cups water
– 1 head of garlic
– 2pcs bay leaf
– 1/2 tsp salt
– 1 tsp of freshly ground black pepper
1. Marinate the chicken with the patis for 1 hour.
2. In high heat, sear chicken until golden brown but not cooked all the way through
3. Remove chicken and set aside
3. Add minced garlic and saute quickly
4. Deglaze with sukang puti and water
5. Add back chicken, salt, pepper and bay leaf
6. Let it simmer for 20minutes or until chicken is fully cooked
7. Remove from fire and enjoy
Adobong Gata
Serves 4-5 people – popular in bicol, the land of gata
– 1kg chicken adobo cut
– 1/2 cup sukang tuba
– 1/4 cup soy sauce
– 2 cups coconut milk
– 1 head of garlic
– 1/2 head of red onion
– 1 thumb of ginger
– 2pcs bay leaf
– 1 tsp salt
– 1 tsp of whole black peppercorns
1. In high heat, sear chicken until golden brown but not cooked all the way through
2. Remove chicken and set aside
3. Add minced garlic, onion, ginger and saute quickly
4. Deglaze with sukang tuba, soy sauce and coconut milk
5. Add back chicken, salt, pepper and bay leaf
6. Let it simmer for 20minutes or until chicken is fully cooked
7. Remove from fire and enjoy
Adobong Dilaw
Serves 4-5 people – popular in the cavite and batangas region
– 1kg chicken adobo cut
– 3 tbsp patis or fish sauce
– 1 cup sukang sasa
– 3 cups water
– 2tbsp turmeric powder
– 1/2 head red onion
– 1 head garlic
– 1 thumb ginger
– 2pcs bay leaf
– 1/2 tsp salt
– 1 tsp of freshly ground black pepper
1. Marinate the chicken with the patis for 1 hour.
2. In high heat, sear chicken until golden brown but not cooked all the way through
3. Remove chicken and set aside
4. Add minced garlic onion ginger and saute quickly
5. Deglaze with sukang sasa, water and add turmeric
6. Add back chicken, salt, pepper and bay leaf
7. Let it simmer for 20minutes or until chicken is fully cooked
8. Remove from fire and enjoy